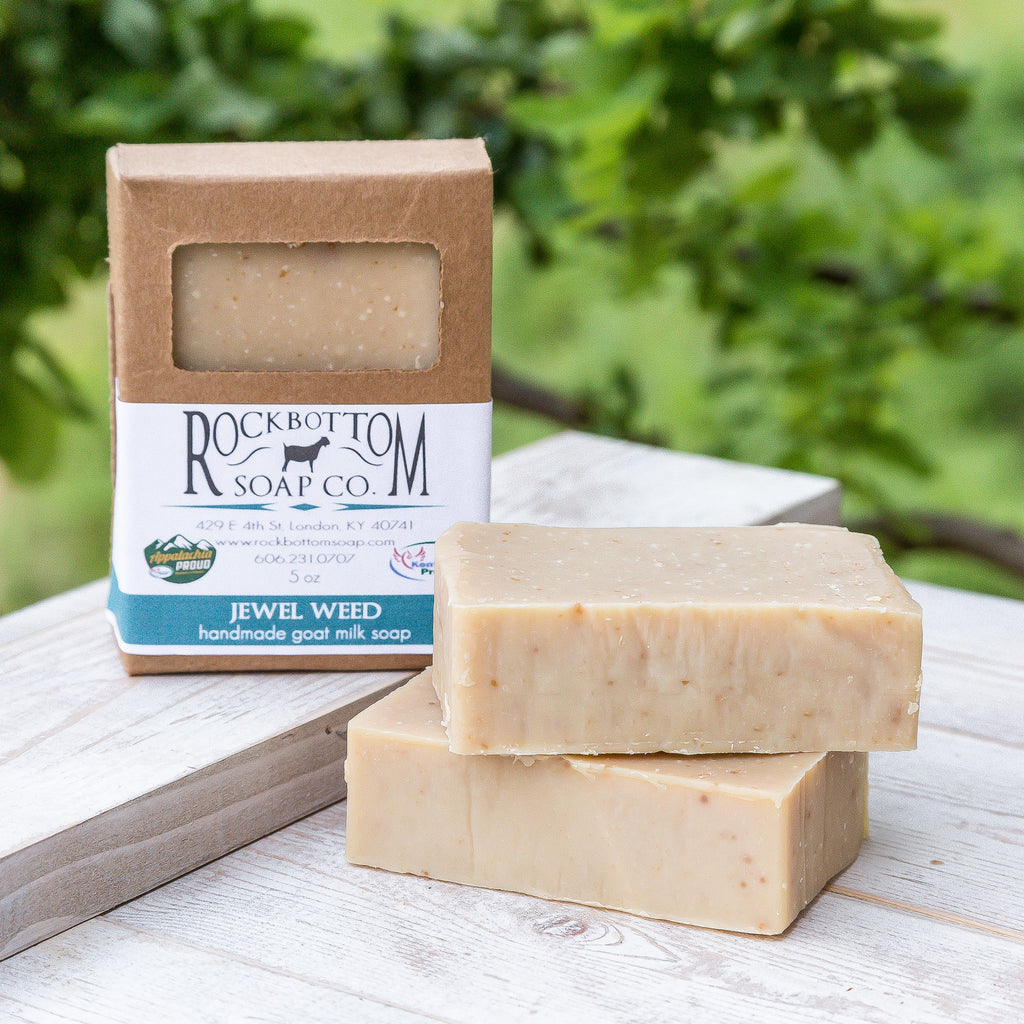 Jewel Weed Goat Milk Soap
$ 6.00
Jewel Weed Soap is a one-of-a-kind lather exclusive to us! Word on the street is Jewel Weed Tea can cure poison ivy – and here at the farm, we source that same potent plant to whip up bubbly goodness with our goat milk and extra fine ground oatmeal. 
Made with homegrown goat milk, jewelweed tea, olive oil, coconut oil, caster oil,  lye, and ground oatmeal.
What makes our soap special?
*Unique recipe perfected by a persnickety science nerd. 
*Honest, simple, high-quality food grade ingredients
*Each batch of soap is hand poured, hand cut, hand boxed, and labeled.

*Our boxes are custom-made for us in Louisville, KY. 
*4.5-5 ounce bars
*Soaps are phthalate, sulfate, and paraben free.  
*Products are free of any petroleum-based products 
*The star of the show, goat milk; let me list the ways this ingredient alone makes our soap superior
Vitamin A

: 

Goat milk contains more vitamin A than cow's milk. Vitamin A is akin to retinoids. 

B-Vitamins: Helps hydrate and smooth the skin. 
Vitamin C: Acts like an antioxidant and helps prevent sun damage.
Vitamin D:

 helps soothe irritated skin.

Vitamin E:

 Helps protect the skin and prevent sun damage.

The creamy texture of goat milk makes it through the soap-making process. Goat milk has a small molecular size that allows that.

Goat milk contains lactic acid, vitamins, and minerals that help exfoliate and nourish the skin. 
In summary, all the components of goat milk combine to help nourish, soothe and protect your skin from your day-to-day life. In addition, our soap will not dry you out like commercially made products.